The best part about quilting is creating something fun with great fabric. For my last "My Favorite Things" post, I wanted to share just a few of my favorite fabrics. I admit I have lots of favorites.
This is no surprise. I love these solids. I have made multiple projects with
Pure Elements
and have enjoyed working with them every time. I even have two new projects in the works using
Pure Elements
. I love the feel of the fabric. I also love the colors, even though the selection is still limited. The saturation is beautiful. I've never had a problem with bleeding or fading. So many of the colors just feel like "my colors".
I have probably made too many project with Pure Elements, but when it works for you, it works.
Intrepid Thread
is generously donating 10 fat quarters (including most of the colors shown above) for our Friday Giveaway. Julie carries all the
Pure Elements
colors in her shop!
My Favorite Neutral: Essex Yard-Dyed Linen in Flax
Essex in flax is my perfect neutral. I love this fabric. It has just a bit of texture, washes up nicely, and matches perfectly with so many different fabrics. I used it most recently in my Valentine's Day pillow and am currently using a large amount in my pixel quilt (more to be shared soon).
This one probably isn't a surprise either. I've been sewing with a lot of
Notting Hill
recently. I love the colors, designs and the fabric. I love both the home dec fabric as well as the quilting cotton.
Notting Hill Hexagons (In Progress)
I use all sorts of blender fabrics in my quilts, but my favorite full line of blenders is
Pearl Bracelets by Lizzy House
. I was so excited when she came out with so many colors all together last fall at Market. It's a beautiful stack all together, but it's a great stash builder. I find myself using at least one color from my bracelets stack each time I make a scrappy quilt.
Christa Quilts
is donating six
Pearl Bracelets Fat Quarters
in some of my favorite colors to our Friday giveaway.


I was able to see
these fabrics
at Market last fall. I fell in love with them. I don't even have my hands on them yet, but I'm hoping to. Mostly, I love the colors, but the simple designs are fun as well. Most of these fabrics could easily be mixed in with lots of other lines and fabrics. They would make a great addition to the stash.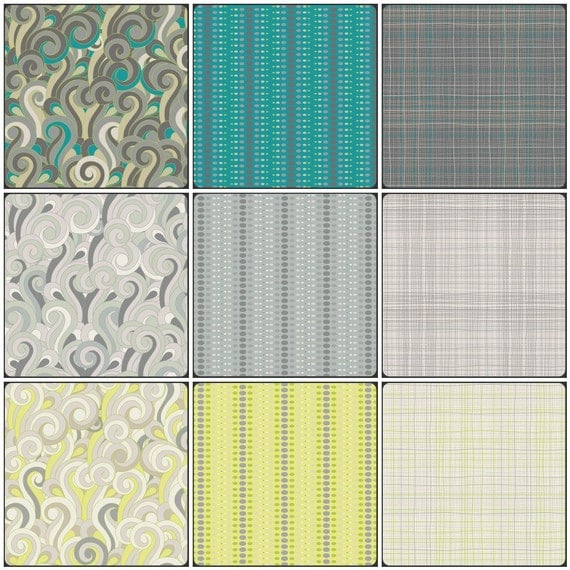 I Don't Do Dishes
is generously donating
a fat quarter bundle
and
one fabric panel
from Textures for our giveaway.
That concludes the "My Favorite Things" posts for the week. I had a lot of fun sharing my favorites. Come back tomorrow to share your favorite sewing tool/fabric and enter the giveaway for several fun prizes!