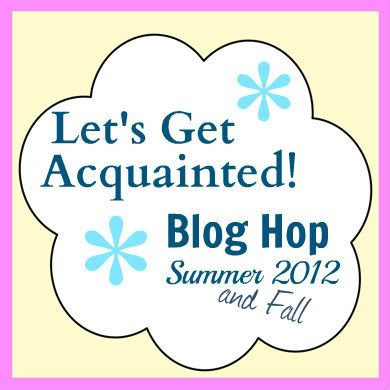 This post is in conjunction with the "Let's Get Acquainted Blog Hop" over at Plum and June. Beth contacted me a couple months ago to participate in her Advice for New Bloggers series. Please check out her blog and some of the great advice people have posted recently. Thanks so much to Beth for asking me to participate!
A couple of years ago I was out to dinner with two childhood friends. We were neighbors growing up and have known each other as long as we can remember. While chatting, one friend shared a story about her mother. Like my mom, this woman sewed many of her children's clothes when they were young. Instead of allowing the project to be used or worn immediately, she would hang it at the end of the hallway for a few days to admire and enjoy her work before it became just another thing in the drawer. I can just picture this young mother at the time taking a few moments to appreciate the work that she put into something.
This simple story resonated with me. I was just beginning to blog and share my projects. I loved the idea of my blog becoming the "end of my hallway". It is a way to share my projects with others who appreciate the work I put into each project and can celebrate a success with me or understand a failure. I didn't start blogging to make money, become a super blogger or anything of the like. I simply started blogging because I love the projects I've been able to create and wanted to share them.
I am constantly reassessing my purpose for blogging and asking myself why in the world I spend so much time on this. I truly enjoy the connections, both local and online, that I have gained through blogging. This has been a great blessing to me in my little world as a SAHM. I try to stick with the original intent of my blog. I find whenever I veer too far from this, I don't enjoy blogging. Adding too many obligations, giveaways, or sponsors takes away the fun for me. I know of many bloggers who enjoy these aspects of blogging and even thrive on this.
I've watched many bloggers go through a similar journey to mine in trying new things and finding what works and what doesn't work for them. For me, I've found one of the biggest challenges in blogging is keeping my mind off the popularity contest (for lack of better words) that seems to exist in the blogging world. It can be hard when so many other bloggers have more followers, sponsors, giveaways, etc. They might have more projects that receive fabulous praise. They constantly receive bundles of fabric and other products from companies or shops. They seem to always be designing and selling some new quilt pattern. Unfortunately, this aspect seems to make blogging competitive (even if just in my head), taking away the fun for me as well. I have had the occasional opportunity to have some of these blogging perks, but they aren't common for me.
When I get discourage about this, I have to remind myself why I even started blogging in the first place. I just wanted to share what's hanging at the end of my hallway as well as an occasional story about my frantic life with three small kiddos. When it comes to blogging, I've learned I can't do it all even though I've tried. I've slowed down in what I try to accomplish and publish on my blog. Perhaps down the road when my kids are in school, I'll have more time to devote to this space--better pictures, more projects, sponsors, etc. For now I'm pretty content.
Finally--my advice to new bloggers: Find a purpose and stick with it.
Decide what drives your desire to blog. Don't compare yourself to every other blogger and feel you have to measure up in every way. If you want to make money blogging--focus on networking with sponsors and build your content. If you hope to build a successful online shop of homemade items, focus your efforts there. If you simply want to share your projects, just share your projects. Don't try to do everything. It won't make you happy. I promise. I tried.
I was browsing through photos of previous projects this weekend and was once again reminded why I blog. It just makes me happy to look at pictures of some of my favorite quilts I've made. Thanks for celebrating with me the projects that "hang at the end of my hallway". Have a great Monday!