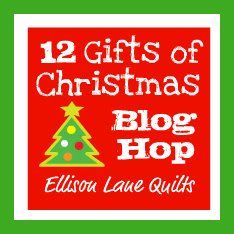 Don't miss the giveaway at the end of the post!
I love making holiday-related projects to give to family and friends. We often give family their presents at Thanksgiving anyway since we don't always see them at Christmas. This way they have the whole month to use it.


This table runner can be definitely be made in any colors/fabrics for everyday or any holiday. My favorite part is actually the binding. I came up with the binding idea one night when I couldn't fall asleep. I loved the idea of the candy cane binding and actually designed the table runner around the binding. It's simple and a great beginner project. I left a lot of white space in the design leaving the option open for hand stitching and embroidery if that is your thing.
You'll need:
For the pinwheels:
(22) white squares 3.5"
(10) pairs of red pattern squares 3.5"
(1) pair of green squares 3.5"
(10) 5 1/2" white squares
For the white and red borders:
(2) white strips 1.5" x 35.5"
(2) white strips 1.5" x 17.5"
(2) red pattern strips 2.5" x 37.5"
(2) red pattern strips 2.5" x 21.5"
For the binding:
(6) 1.5" white strips WOF (Width of Fabric)
(6) 1.5" red strips WOF (the picture shows these as a solid red, although right before sewing it, I changed to various pattern strips)
Step 1: Make the pinwheel units.
Pair each 3.5" pattern square with a white square.
Mark a faint line between the diagonal corners and stitch a seam 1/4" from either side of the line.
Slice the fabric down the line.
Press seams (I prefer to press open).
Trim each unit to a 3" square.
Pair the matching sets of half square triangle units and piece into a pinwheel. Make sure all pinwheels are oriented the same direction.
Sew the pinwheels with the 5.5" white squares in the arrangement shown.
Step 2: Add the borders.
First sew the long sides of the white border then the short sides.
Repeat with the red border.
Step 3: Make the candy cane binding.
Trim one edge of each strip to a 45 degree angle.
Sew strips together, alternating white and red. Offset slightly as shown in second picture. Use a slightly smaller stitch length. Press all seams open.
Trim edge of pieced section ensuring it remains at a 45 degree angle.
Cut all pieced strips to your desired widths. A standard binding is 2.5". I chose to cut mine slightly wider at 2.75".
Stitch strips end to and and press binding in half.
Step 4: Baste the table runner and quilt as desired.
I chose to quilt my lines at a 60 degree angle from each direction. I marked the initial line using masking tape. I then spaced my quilting using wide painters tape to mark my lines.
Step 5: Bind
I added the binding using a about a 3/8" seam allowance to give a wider binding. Stitch onto table runner using a walking foot.
When you get to the end, it's unlikely the colored stripes will match perfectly. Mine ended almost exactly at a seam. I could choose to match two red sections or two white sections. I choose to match up two red sections to finish. Cut ends of the binding strips at a 45 degree angle and stitch closed. Finish stitching binding to the front of the table runner and attach by hand or machine to the back.
Done!
Don't forget to check out all the other great tutorials going on this week!
Friday, October 14- Jennifer @
Ellison Lane Quilts
Saturday, October 15- Ayumi/
Pink Penguin
Sunday, October 16- Amy/
Lots of Pink Here
Monday, October 17- Faith/
Fresh Lemons Quilts
Tuesday, October 18- Penny/
Sew Take a Hike
Wednesday, October 19- Kati/
From the Blue Chair
Thursday, October 20- Lee/
Freshly Pieced
Friday, October 21- Elizabeth/
Don't Call Me Betsy
Saturday, October 22- Melanie/
Texas Freckles
Sunday, October 23- Lindsay/
Craft Buds
Monday, October 24- Amanda/
A Crafty Fox
Tuesday, October 25-Vanessa/
Little Big Girl Studio
Now for the Giveaway!
Win a $25 gift certificate to Fat Quarter Shop. I'll announce the winner, picked by Mr. Random, on October 26th.
Leave a comment telling us your favorite thing to give as a homemade gift. We can always use more great gift ideas. Please make sure I have a way to contact you.
Don't forget Jennifer's giveaway as well. Head on on over to
Ellison Lane Quilts
to enter to win a $250 gift certificate to
Fabricworm
! And just for stopping by, you can take advantage of a generous 15% off discount at
Fabricworm
with the coupon code
fw12days
through the end of the blog hop.