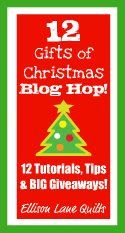 Thanks so much for all your kind comments and great ideas. It was fun to read through everything, even if I didn't get a chance to respond to every comment.
The winner of the $25 gift certificate from Fat Quarter Shop is:
212

Jodi said...

Thanks so much for a great tutorial. I love this tablerunner. Just a little green pinwheel and the binding is perfect! I love to make tablerunners and give them as gifts. They are not too labor intensive and you can make them around the different holidays so you always have the perfect decoration. Of course they are great to decorate any room as well. Thanks for the giveaway and a chance to win.
Congrats! I'll be sending you an email.