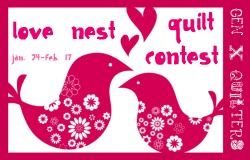 The voting is on for AnneMarie's Love Next Contest. Head on over to
Gen X Quilters
and vote! The poll is on her right sidebar. I entered my
World of Goo Quilt
. It's number #33 on the list (just in case you might want to vote for it!) There are some really fabulous quilts this time around. Thanks to AnneMarie for putting together such a fun contest!
On a side note about the
World of Goo Quilt
--I received a super fun e-mail the other day. The designer of the video game
World of Goo
sent me an e-mail. He just wanted to let me know that he liked my quilt. He even sent the link along to his mom who is also a quilter. It's always fun to be noticed by those who provide such great inspiration. It made my day!